Following Passion, which made its world premiere in 2008 and was composed by Pascal Dusapin, the Festival d'Aix-en-Provence commissioned him to create Il Viaggio, Dante on a libretto by Frédéric Boyer. Premiered at Aix-en-Provence on 8 July 2022, Il Viaggio, Dante was selected as one of 12 productions to be supported by the Fonds de Création Lyrique in 2022.
The Fonds de Création Lyrique (FCL) — the result of a partnership between the French Ministry of Culture and Communication and the SACD — was established over twenty years ago by the SACD, which also manages it. The mission of this fund is to support professional projects centred around the creation or revival of contemporary works of opera, musical theatre or musical comedy. Each year, the FCL enables numerous works to be performed in major French opera houses and smaller venues. The FCL is committed to supporting the dissemination of the works selected each year, and helps fund their revival or a new production.
The opera Il Viaggio, Dante will be revived by its coproducers the Opéra National de Paris, the Saarländisches Staatstheater and the Théâtres de la Ville du Luxembourg.
LEARN MORE ABOUT THE 12 WINNERS OF THE FONDS DE CRÉATION LYRIQUE
Related content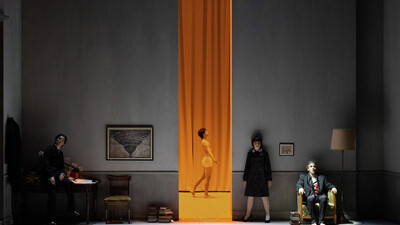 IL VIAGGIO, DANTE
OPERA IN SEVEN SCENES LIBRETTO BY FRÉDÉRIC BOYER BASED ON VITA NOVA AND DIVINA COMMEDIA BY DANTE WORLD PREMIERE
You will also like