The Festival d'Aix-en-Provence is pleased to announce that George Benjamin has been awarded the 2023 Ernst von Siemens Music Prize, which is bestowed each year upon a composer or performer for his or her major contribution to the world of contemporary music.
On 30 January 2023, British composer and conductor George Benjamin became the 50th recipient of the Ernst von Siemens Music Prize. The Ernst von Siemens Music Foundation awards the prize to honour an individual "who is one of the most important artists of our time and has made a decisive contribution to the creation of new music." The award will be presented in Munich on 26 May 2023.
George Benjamin studied composition with Olivier Messiaen at at the Conservatoire National Supérieur de Musique et de Danse de Paris, and continued his music studies at King's College, Cambridge. He has composed several successful pieces such as Into the Little Hill and Written on Skin. The latter work was premiered at the 2012 Festival d'Aix-en-Provence, where it received a standing ovation, and has been revived and performed at major venues around the world ever since. As a conductor, George Benjamin is often invited to direct orchestras such as the London Sinfonietta, Ensemble Modern and the Berlin Philharmonic. He has been a Chevalier de l'Ordre des Arts et des Lettres since 1996, and was appointed Commander of the Order of the British Empire in 2010. He was named Composer of the Year by Musical America in 2014, and was elected as a member of the Royal Swedish Academy of Music in 2018. In 2019, he received the Golden Lion Award for lifetime achievement from the Venice Biennale.
The Festival d'Aix-en-Provence is devoting a special tribute to George Benjamin that will span the 75th edition, culminating in the world premiere of his new opera Picture a day like this, eleven years after the phenomenal success of Written on Skin.
Related content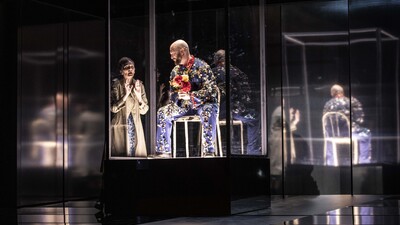 You will also like